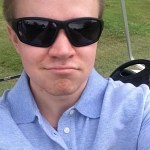 Okay. It was never easy for me. I was born a poor black child. I remember the days, sittin' on the porch with my family, singin' and dancin' down in Mississippi.
I may not have been born a poor black child in Mississippi, but I was born a middle class white child in Pennsylvania. After rebelling and yelling my way through elementary, middle, and high school in the York Suburban School District, I made my way to Dickinson College for two years of continued rebelling and yelling and finally settled down into two years of moderately subdued studying and whispering to acquire my B.A. in Professional Writing (with a minor in Russian Studies) from York College of Pennsylvania, and later an MBA in Financial Management from the Fox School of Business at Temple University.
I am currently employed as a Brand Manager for Utz Quality Foods, and reside in York, PA.
Day-to-day, I find myself dabbling in a little bit of everything: marketing, writing, sleeping, eating, powerlifting, musing, philosophizing, arguing, sleeping, burning in the sun, and pretty much anything that strikes my fancy. When it comes to fancy, I fancy myself a jack-of-all-trades and refuse to limit myself to any one skillset or profession. As Robert Heinlein stated, "Specialization is for insects," and I fully believe in that sentiment.
I have no idea what I want out of life and I would prefer to keep it that way.
Contact me will@willklinedinst.com