I enjoy learning about the history of the cigars that I smoke; however, digging into the backstory of the Jordan Alexander III Corojo Toro, I've encountered mostly marketing double-speak and vague references to quality and dedication. Which is okay. I understand the need to sell cigars, but some of us enjoy a bit of truth behind the "…venture to build a legend."
That being said, I have found that this cigar is manufactured by Quesada Cigars in the Dominican Republic, so I have to expect a level of quality on-par with Quesada's main offerings. These cigars are stated to be created in small production, but it's difficult to discern how much of a hand the brand has in the blend process, something that could hint at a passion for re-branding rather than getting to know the tobaccos themselves.
But I'm also a curmudgeonly misanthrope who automatically assumes the worst out of everyone. So we'll err on the side of optimism and say that The Legend is only a small part of the story of the Jordan Alexander III brand.
And, well, who cares about all the backstory and hype if the cigar turns out to be a dud? Thus, we must smoke and discover for ourselves whether it was worth sending two lions to save the cigar's namesake…

Jordan Alexander III Corojo Toro Cigar Review
Size: 6″ x 52 ring gauge
Style: Closed-Foot Toro, Pigtail Cap
Blend:
Wrapper: Dominican Corojo
Binder: Dominican
Filler: Dominican & Nicaraguan
As far as quality goes, I have to say that this blend and style hints at something spectacular. The Dominican Corojo should bring out some strong earthiness, maybe some cream, and combined with the Nicaraguan filler, some subtle spice.
Assuming everything is well-balanced, I'm betting that this will be in the medium strength range and produce an enjoyable rather than overpowering smoking experience.
Initial Observations
Appearance: Smooth, matte finish wrapper, minimal veins, no visible imperfections
Aroma: Light, almost non-existent. If anything, cedar.
Pairing, Cutting, and Lighting
Drink Pairing: Water
Lighter: Xikar single-flame butane
Cutter: Xikar guillotine
Cutting and Cold Draw
Skipped due to the closed foot.
The First Third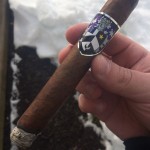 One of the greatest pleasures of cigar smoking is the initial burst of wrapper flavor when lighting a closed-foot cigar. And the Jordan Alexander III Corojo Toro does not disappoint with a nip of heat on the first puff. Dare I say, red pepper?
The spice dies down, much like a party after Andy Dick arrives, and transitions into a steady mixture of cedar, cocoa, earth, and mulch. Definitely an earthy cigar so far–Al Gore would be proud if not for the fact that this cigar would distract your attention from him.
So far so good on the burn-side. No canoe-ing, no plugging, and enough smoke to please the most die-hard of hippies.
At points, there is a mild metallic taste–somewhat mineral-ish? I've encountered these notes a few times before, especially in Hawaiian blends, and have not quite decided whether or not I like them. Certainly a mix-up from the normal flavors one might expect.
The Second Third
Pepper. All the black pepper. Like an orgy of pepper-mills all over my tongue. There's no burning to this pepper, but rather a rich, consistent flavor. I'm digging it.
But overall, the earth is the dominant force here. Dabbling in mild grasses, mulches, and dirts. I'm a big fan of earthy cigars, and to this point have not encountered a Dominican that quite satiates my appetite for chewing on mud, but the Jordan Alexander III Corojo Toro might just do it for me.
The Final Third
The return of the metallic (king)! Weak pun. I'm tired. Excuse #2. Blah blah blah. Whew. At any rate, the metallic notes are back, beating out the earth notes and highlighting a mild cedar after-taste. Not too shabby. To be honest, I wasn't sure whether the mineral bite would destroy this cigar for me, but it's complementing the existing notes fairly nicely.
Some hints of kitchen spice that I hadn't noticed before start to creep out towards the end. Pleasant, but not overwhelming.
The Last Inch
The kitchen spice dominates, but eventually turns a bit acrid. I might've smoked the last third a bit too fast and built up some tar. Have to nub it.
Final Impressions and Rating
Overall, a damn fine cigar. Well-balanced, interesting inter-play of the earth with the mineral aspects, and so so so so so much damn smoke. Chimney-esque. For the price, I'll definitely buy more of the Jordan Alexander III Corojo Toro.
Rating (Seek out and buy again, Smoke if I happen to find one, Avoid at all costs): SEEK OUT AND BUY AGAIN
Solid smoke from an up-and-coming brand. I'd really like to know more about their blending process and their founders, but pipedreams are pipedreams. Maybe once they have their own factory, they'll be a bit more forthcoming on that front.
Cheers!