Let it be known: I'm a sucker for good marketing. And damn if AJ Fernandez didn't catch my eye with the band of his newest release, the Enclave.
The AJ Fernandez Enclave's label features a Native American wearing a headdress and riding a horse–my guess would be that he's a Sioux as most American Indians did not wear headdresses. That being said, I haven't found any press releases on the matter, so the marketing department might have just mocked up "generic Native American on horseback."
Cuba had a native population at the time of Columbus's arrival, but the Taino were quite unique from American Indians. I'm not entirely sure whether AJ was going for the rustic, old West vibe, or whether he just played a lot of cowboys and Indians as a child, but either way, I'm excited to give his newest blend a shot (and at least this Native American label isn't as inscrutable as the label on the Tatuaje TAA 2014–was he a Mayan?).
Without further ado…

AJ Fernandez Enclave Cigar Review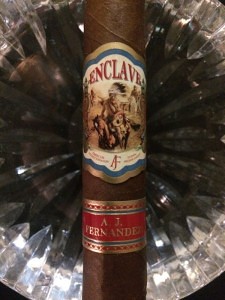 Size: 6.5″ x 52 ring gauge
Style: Figurado
Blend:
Wrapper: Ecuadorian Habano Rosado
Binder: Cameroon
Filler: Nicaraguan & Nicaraguan Piloto Cubano
Oh boy, oh boy! An Ecudaorian Habano Rosado wrapper. Not only does this leaf give the cigar its characteristic red hue (which looks lovely next to the red labels), but it'll surely lead to some heavy duty spice notes–my favorite.
The Cameroon binder and Nicaraguan fillers should add some more spice, pepper, cedar, and other yummy earthy notes. Pretty much, this cigar should be a spice bomb. And I couldn't be happier.
Initial Observations
Appearance: Beautiful, subtle rose hue to the leaf. No imperfections. Love the vitola.
Aroma: Hints of spice and nut.
Pairing, Cutting, and Lighting
Drink Pairing: Water
Lighter: Xikar single-flame butane
Cutter: Xikar guillotine
Cutting and Cold Draw
Nip the tip (that joke never gets old), no problem. Cold draw of black pepper and cedar.
The First Third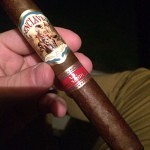 First puff is woody and rustic. After the burn gets going and evens out, I'm running into some pleasantly sweet nutty notes. There's an ever-present burn on my palate that reminds me I'm smoking an AJ Fernandez cigar. Sharp black pepper, fresh black pepper every so often. Quite spicy retrohale–my sinuses voided themselves down my throat (you're welcome for that imagery).
The cold is creeping in, but the cigar has my focus. Yea, for AJ Fernandez warms the coldest of nights and fends off the most insidious of chills, for He is the light, the Father and the Son.
I digress…
The Second Third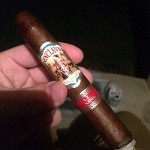 As I hit the middle of the cigar, I'm finding some creamier notes interspersed with the black pepper. TONS of smoke. The nuttiness is nuttier, though I cannot pinpoint exactly what type of nut I'm tasting (I feel like Tom Brady talking about deflated balls–the jokes don't even have to write themselves because they're ever-present).
While we're on the subject of nuts and balls, there are no tiny white balls on the ash of this cigar. Not sure why, but I always keep an eye out for them. Something about ash that looks like Sno-Caps just feels right.
The Final Third
As I enter the final third, the burn is heating up like a cat on a hot tin roof dancing in a frying pan near Satan's balls. Woof! It is hot. But the intense burn of the cherry is bringing out some intense and overwhelmingly glorious pepper and spice notes. No ammonia, no tar, just spice. It's like Big Red Gum lost the sugar and made a baby with a habanero pepper.
If you couldn't tell, the final third of the AJ Fernandez Enclave is so far my favorite part (however, I do believe that if the entire cigar were like the final third, I'd vomit on the field mice that have made a home in the siding of our apartment).
The Last Inch
Burning. A burning that doesn't require antibiotics or an STD test! The best kind of burning.
Final Impressions and Rating
I'm a big fan of spice, and AJ Fernandez's wheelhouse is fever with a dash of last stage greenhouse effect, that is to say: heat. The AJ Fernandez Enclave brings the heat and does not disappoint. The complex profile keeps the cigar from being one dimensional while the spice keeps me guessing about whether or not I'll have violent bowel movements later. Not a bad thing, mind you. I'm a fan of Taco Bell's fire sauce, so I'm well acquainted with squatting on the porcelain god while praying to the heavenly god.
Rating (Seek out and buy again, Smoke if I happen to find one, Avoid at all costs): SEEK OUT AND BUY AGAIN
The AJ Fernandez Enclave is box-worthy and at a reasonable price point as well.
Let me know your thoughts and experiences in the comments (just please, for the love of god, no long rambling stories about how your parents never hugged you–hugging is how the weak show affection; the strong show affection by cold, disinterested huffing and puffing).
Cheers!